Zwift – pripravený? Začíname!
20. októbra 2017
Opäť Vás všetkých pozdravujem, priaznivci maraton.bike-u! V minulých článkoch sme sa najskôr venovali tomu, čo samotný Zwift vlastne je a neskôr sme si povedali, čo k nemu budeme potrebovať. Dnes, po tom čo sme sa už s ním oboznámili a zaobstarali si potrebné vybavenie, sa pozrieme už na samotný software, ako funguje, čo všetko v ňom nájdeme. Bude toho celkom dosť :o))
Už na úvod aj v prípade registrácie začneme pracovať so softwarom. V prvom rade je potrebné navštíviť domovskú stránku zwiftu (www.zwift.com) , kde v pravom hornom rohu nájdeme tlačidlo download. Po kliknutí naň sa dostaneme na ďalšie okno, v ktorom vyberieme zariadenie, na ktoré Zwift sťahujeme. Počítam, že pre väčšinu to bude asi Windows. Po odkliknutí sa spustí sťahovanie. V prípade, že plánujeme Zwift ovládať prostredníctvom mobilu, čo môže byť veľmi užitočné, tak potrebujeme stiahnuť aplikáciu Zwift Link. Nižšie na tej stránke nájdeme link aj na ňu, alebo aplikácia je k dispozícii aj v app store alebo google play, podľa typu operačného systému, ktorý používame v mobilnom zariadení.
Inštalácia je štandardná, takže tak, ako keď v PC inštalujete iný software, funguje to úplne zhodne. Po nainštalovaní necháme aplikáciu zaktualizovať. V pravom hornom rohu  klikneme na "login" a po otvorení nového okna, keďže ešte nemáme vytvorený účet, tak na "create account". Všetky položky vyplníme  a je to. Veľmi jednoduché. Následne sa prihlásime. Je potrebné upraviť ešte vlastnú váhu a výšku, to môžete spraviť buď v profile priamo na stránkach zwiftu, ale ja to odporúčam spraviť až v samotnom softwari, kde si nastavujete aj FTP hodnotu a max. tep.
Dobre, sme úspešne zaregistrovaný, máme nainštalovaný software a aj mobilnú aplikáciu, máme potrebné hardwarové vybavenie a máme natrénované (prípadne ideme trénovať… :o)), a tak môžeme prvýkrát spustiť Zwift. Ak plánujeme spolupracovať s mobilom je nutná podmienka, aby obe zariadenia boli pripojené na rovnakú wi-fi sieť. Ak to máte splnené, zapnite najskôr aplikáciu v mobile alebo tablete. Následne na to môžete spustiť aj program v PC. Pokiaľ neplánujete používať mobilné zariadenie, stačí prvý bod jednoducho preskočiť a rovno zapnúť software v počítači. Všade je potrebné sa samozrejme prihlásiť svojim menom a heslom. Po úspešnom absolvovaní sa dostaneme konečne na úvodnú obrazovku.
Trošku sa vrátime nazad. Ak plánujeme používať smart trenažér s možnosťou pripojenia pomocou bluetooth, nevyhneme sa použitiu mobilnej aplikácie. Predtým nezabudnite bluetooth v samotnom mobile, alebo tablete zapnúť, umožniť ostatným zariadeniam, aby videli to vaše a hlavne nepárovať spolu s trenažérom. Občas to údajne robí neplechu. Pokiaľ plánujeme využívať ANT+ protokol, tak sme v pohode. Či budeme používať mobil/tablet, alebo nie, je len čisto v našej réžii podľa toho, či to potrebujeme/využijeme. Odporúčam každému používať radšej ANT+ (nezabudnite, že potrebujeme ANT+ USB stick/dongle) protokol namiesto bluetooth. Prečo? Všetko sa dočítate v predchádzajúcom článku, kde som popísal svoje skúsenosti.
Dobre. Máme už spustené všetko čo potrebujeme, vieme cez čo sa plánujeme pripájať. Je možné používať buď jeden, alebo druhý protokol, no kľudne aj oba naraz. Má to svoje výhody. Pre príklad poslúži napr. to, že máme "hlúpu" zostavu (bez smart trenažéra) – napríklad duálny snímač kadencia + rýchlosť pracujúci na Protokole ANT+, ale máme k tomu hrudný pás pracujúci na báze Bluetooth. Samozrejme, všetky tieto zariadenia je  možné použiť v prípade, že máte k dispozícii pri zapnutí oba druhy pripojenia.
Dva odseky vyššie sme skončili pri úvodnej obrazovke, však? :o))  Čiže všetko nastavené, bluetooh na mobile vysiela, ant+ dongle zasunutý. Úvodná obrazovka nás teda vyzve hneď na párovanie jednotlivých zariadení. Vľavo hore môžeme vidieť, ktoré protokoly vysielajú, tzn. či môžeme párovať zariadenia prostredníctvom BT, alebo ANT+, prípadne prostredníctvom oboch. V prvom riadku sa rozhoduje medzi tým, či používame smart trenažér (prípadne wattmeter) – tu určujeme priamo zdroj , alebo klasický. Ak požívame smart, klikneme naň. Otvorí sa ďalšie okno v ktorom vyberieme zariadenie, ktoré chceme pripojiť. Pokiaľ tam nie je, tak je problém a ťažko sa potom hľadajú a odstraňujú chyby pripojenia. Ako som už minule spomínal moju skúsenosť, trenažér spároval cez bluetooth až tretie zariadenie, čo som skúšal. Pokiaľ máme v zozname viac zariadení, vyberieme, ktoré chceme používať (napr. kadenciu , rýchlosť a výkon môžeme merať externým snímačom a nie zabudovaným priamo v trenažéri). Ak máme pripojený minimálne zdroj výkonu, prípadne podporovaný "hlúpy" trenažér so snímačom rýchlosti a kadencie, tak klikneme na "OK" a dostaneme sa na hlavnú obrazovku. Pokiaľ by ste si chceli software len pozrieť bez jazdenia, všetky tieto úkony môžete preskočiť kliknutím na tlačidlo "Skip".
Nájdeme tu toho celkom dosť. Na úvod musím podotknúť že Zwift disponuje tromi oblasťami. Majstrovským okruhom v Richmonde, mestskými časťami Londýna a fiktívnymi cestami na ostrovoch Oceánie pod názvom Watopia. Zwift má svoj kalendár, ktorá oblasť sa jazdí ktorý deň. Najviac dní v mesiaci sa jazdí Watopia, zväčša viac ako 20x, za ním nasleduje Londýn cca. 7-10x mesačne a Richmond býva len doplnkovo 1-2x mesačne. Je možné to manuálne zmeniť, ale podotýkam, že vyžaduje to zásah do zdrojových konfiguračných súborov a navyše, pokiaľ by sme sa to rozhodli spraviť, tak na trati už nikoho iného, okrem nás, nestretneme. Proste sólo jazda.
Vrátime sa k hlavnej obrazovke. V pravej hornej časti sa nachádza zoznam pretekov, prípadne spoločných výjazdov, o tom si povieme niečo viac neskôr. Pod týmto zoznamom máme kalendár, aby sme vedeli, ktorá oblasť sa v ktorý deň jazdí. Pod ním si môžeme určiť náš cieľ, či už týždenný alebo mesačný a buď v čase, alebo v prejdenej vzdialenosti. Pod tým sa nachádza ešte jedno tlačidlo na sledovanie ostatných jazdcov pod názvom "Just watch", ak by sme sa chceli len pozerať a nejazdiť. Hore v strede nájdeme dve položky. "Ride type" nám označuje možnosť výberu "workoutu", ktorý chceme v daný tréning vykonávať (aj k tomuto sa neskôr podrobnejšie dostaneme). Pokiaľ si žiadny nezvolíme, môžeme jazdiť voľne bez nejakých obmedzení a príkazov. Pod ním nájdeme "Route", čiže trasu, akou chceme jazdiť. Každá oblasť nám totiž umožňuje niekoľko typov okruhov. Tie sú síce predurčené, ale počas jazdy ich môžete samozrejme ľubovoľne meniť. To je tiež veľká výhoda, že nie ste nijako limitovaný smerom a trasou, pokiaľ nechcete. V prípade, že zmeny trasy nekonáte, program ide automaticky podľa predvolenej trasy, ktorú ste si vybrali. Je možná vybrať okruhy rovinaté, kopcovité, prípadne aj tzv. " The Pretzel" ktorý je najťažší a prevedie nás všetkými segmentami na okruhu. Posledné dve možnosti z výberu trás sú zaujímavé. Buď nás program vedie za najbližšími skupinami jazdcov, alebo sa necháme prekvapiť, kam nás sám náhodne pošle. To je všetko k trasám. Pod touto kolónkou týmto nájdeme stav pripojených zariadení, ktoré máme k dispozícii a pod tým zoznam ľudí, ktorí jazdia na okruhu. Ak máte nejakých známych (môžete si ich pridávať podobne ako na strave), tí sú vyobrazení na vrchu zoznamu. Po kliknutí na konkrétnu osobu sa môžete pridať ku nej v jazde. Vľavo nájdeme ešte prípadné "mission" alebo teda misie, v ktorých sa dá občas súťažiť o ceny. Pod tým ešte nájdeme zostávajúce dni do expirácie. Posledné tlačidlo dole uprostred – "ride" je samozrejme to najdôležitejšie. Označuje pre nás spustenie samotnej jazdy. A práve k tomuto sme sa celý čas snažili dopracovať :o)
Po spustení samotnej jazdy sa nachádzame vedľa cesty. Vždy keď zastavíme, alebo aj teraz na úvod sa v ľavom dolnom rohu objaví tlačidlo "menu". To v sebe skrýva veľa zaujímavostí. Okrem vyobrazených štatistík si tu môžeme nastaviť "challenge", môžeme upravovať vzhľad bicykla a nášho virtuálneho jazdca, pozrieť si, aké ocenenia a za čo sme získali a aké sa dajú ešte získať, upraviť nastavenia, prípadne skontrolovať pripojené zdrojové snímacie zariadenia a aj zmeniť ich. Úplne hore môžeme upraviť ešte naše osobné údaje ako meno, váhu atď. Menu je veľmi užitočné, odporúčam ho trošku preštudovať.
Prejdime k samotnej jazde. Pokiaľ sme všetko dobre spárovali a nastavili v momente keď začneme krútiť pedálmi začnú v ľavom hornom rohu nabiehať aktuálne watty, aké dávame. Okrem toho v tých štatistikách vidíme aj aktuálnu kadenciu a srdcový tep, pokiaľ máme spárovaný hrudný pás. Podotýkam, že údajne niektoré hrudné pásy (napr. od Polaru) nechcú veľmi spolupracovať, ja mám od Brytonu a ten funguje bezchybne. V strednom okne vidíme aktuálnu rýchlosť, prejdené kilometre, nastúpané výškové metre a celkový čas na zwifte v danom výjazde. Pod ním sa občas vyobrazí informačná tabuľka na príslušných KOM-och, Šprintoch alebo okruhoch, kde je uvedený váš aktuálny čas s možným najbližším umiestnením a odhadovaným časom príchodu do cieľa segmentu, prípadne namiesto tohto tu nájdete potrebné informácie k workoutom. Vpravo hore je mapa spolu s ostatnými jazdcami a sklonom terénu v percentách, pod ňou sa nachádzajú všetci jazdci, jazdiaci v našom smere a v našom okolí (okrem toho je tam uvedený časový rozdiel medzi nami a okolitými jazdcami a výkon príslušného jazdca vo W/kg.). Vľavo potom nájdeme buď informácie z workoutu, alebo poradie jazdcov na príslušnom segmente (KOM, loop, sprint). Dole potom môžeme vidieť graf v reálnom čase, ktorý sleduje priebeh nášho tepu a wattov v jednotlivých zónach. Graf nie je číslovaný, takže skôr má len informatívny, ako štatistický charakter. Štatistiky získate komplexne po ukončení jazdy (prípadne v "menu"), dá sa tam nájsť mnoho zaujímavých informácii, ktoré tu popisovať nebudeme.
Zwift disponuje ešte klávesovými skratkami, ktoré v anglickom jazyku nájdeme popísané na obrázku pod týmto odsekom. Pomocou klávesy "šípka hore" vyvoláme rýchle menu, ktoré je prakticky zhodné s menu v mobilnej aplikácii počas výjazdu. Nájde sa tu niekoľko gést, hlášok a možností interakcie s ostatnými jazdcami. Ako som už spomenul, pokiaľ nemáme v dosahu notebook, môžeme tieto gestá ovládať aj prostredníctvom mobilnej aplikácie.
Tak toľko niečo málo k ovládaniu, aj keď je toho viac než dosť. Množstvo vecí ale ako funguje sa dá zistiť spôsobom pokus-omyl. Teraz sa posunieme trošku ďalej, povieme si niečo o tom, ako to funguje na trati, ako to je so spoločnými výjazdami a pretekmi a dáme si pár slov k workoutom.
Tak sme na okruhu. Nie je všetko len o tom krúžení. Algoritmicky je zwift spracovaný výborne. Jazda v háku skutočne funguje. Stačí nám nižší výkon, ako keď jazdíme na špici. Koľko pri akej rýchlosti a počte jazdcov ušetríte wattov, to Vám nepoviem, to vedia len vývojári ako blízko sa im podarilo dostať realite. V každom prípade, klobúk dole, je to naozaj urobené parádne. A práve tá jazda v háku, aby mi niekto neušiel, vie byť veľmi motivačná. Skúšal som aj konkurenčný software Bkool, ktorý bol graficky spracovaný fantasticky, ale veľmi málo interaktívny a stereotypný, čo na psychike veľmi nepridávalo. Zwift ťaží práve z tejto reálnej interaktivity. Ale pozor! Je veľmi dôležité vedieť, na čom jazdíte. Pokiaľ totiž jazdíte na časovkárskom špeciáli, tak jazdu v háku nevyužijete. Naopak, ak máte klasický cestný bicykel, tak jazdu v háku môžete využiť kľudne aj za jazdcom jazdiacom na TT bicykli.
Keď už spomínam jazdu v háku, tak sa pomaly prepracujem k pretekom a spoločným výjazdom. Všetky sa dajú náj
sť na http://zwift.com/events/ a ďalšie nájdete ešte tu: http://www.zwiftcalendar.com/ Každý takýto výjazd obsahuje nejaký popis, ktorý si odporúčam naštudovať najmä z dôvodu aby ste vedeli podrobnosti výjazdu, či ide o pretek, alebo len skupinový tréning prípadne kombinácia, že spočiatku skupinový výjazd a neskôr výjazd končí menším pretekom. Zwift je naozaj pre každého a to dokazujú aj samotné preteky (prípadne aj výjazdy). Množstvo pretekov je rozdelených do výkonnostných skupín, kde "A" sú tí najlepší (kľudne tu nájdete aj profesionálov z World Tour) a najnižšia "D" je tá najslabšia. A teraz ako vedieť, do ktorej sa máme zaradiť?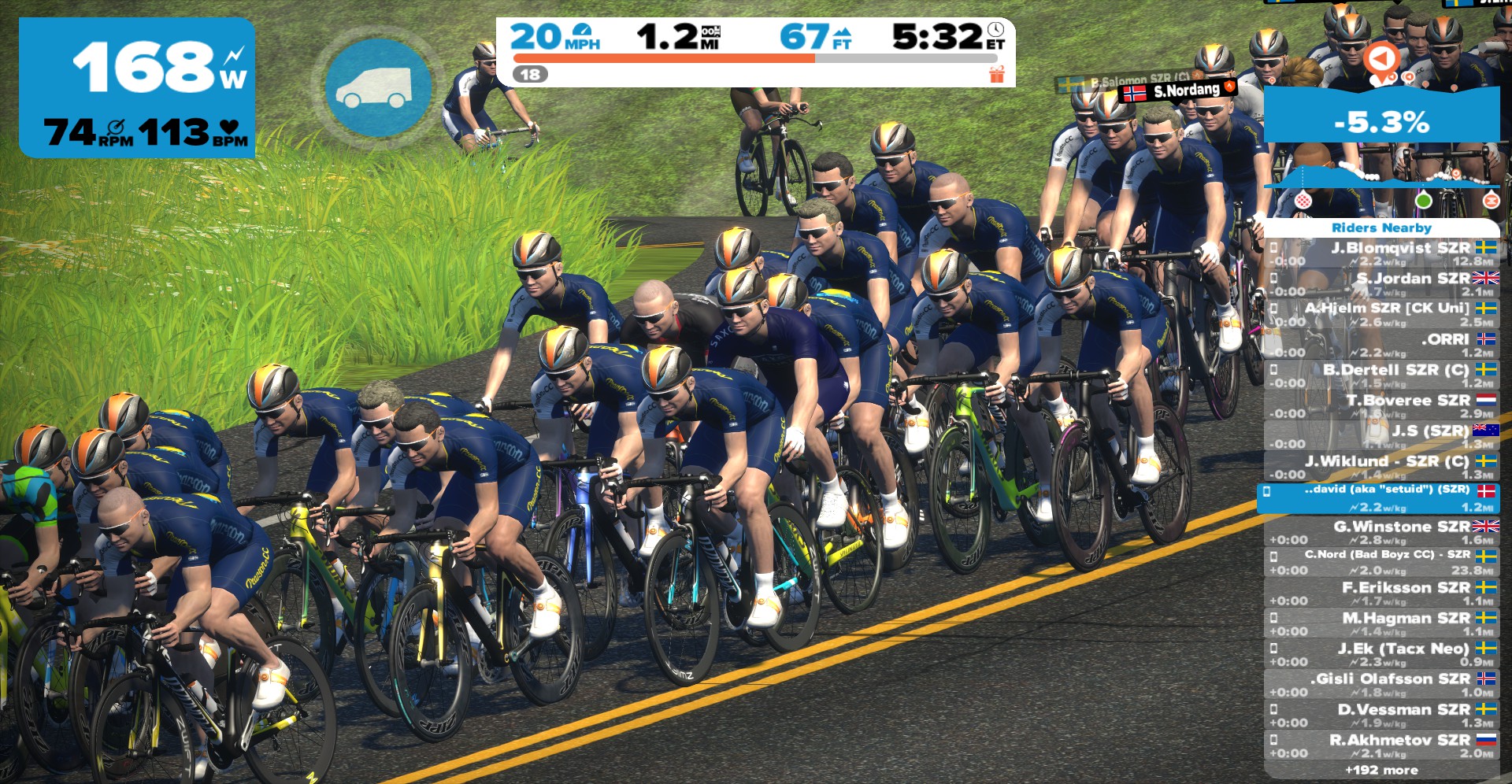 Keďže watty sú kľúčové, je potrebné vedieť svoju hodnotu FTP (functional threshold power). V jednoduchosti, ide o navyšší možný priemerný výkon, ktorý ste schopný podávať počas 1 hodiny. Existuje na to aj niekoľko testov, ktoré nájdeme vo workoutoch, o ktorých budem písať ešte neskôr. Ale Zwift v prípade kladnej zmeny FTP Vám ju vie zvýšiť aj z bežného výjazdu, kde idete aspoň 20 min. úsek úplny šrot :o). Keď vieme hodnotu FTP, môžeme si už ľahšie vybrať pretek do ktorého sa zaradíme. Tie sa delia podľa toho, koľko wattov pri FTP dokážete vytočiť na kilogram Vašej váhy. Napríklad: Vážim 100kg a FTP hodnotu mám 250W. Jednoducho vydelíme watty kilogramami a je to. Čiže v tomto prípade by to bolo 250:100 = 2.5 W/kg. Pozriete do ktorej kategórie spadáte a tam sa je vhodné prihlásiť.
Ešte informácie k "workoutom". Zwift má niekoľko špecializovaných tréningových plánov v závislosti od toho, v čom sa chcete zlepšiť, alebo na čo pripraviť, a okrem toho aj koľko času na tú prípravu máte. Nastavenie potrebných wattov sa určuje z Vášho FTP, takže rozhodne je dobré, pokiaľ chcete robiť systematický tréning, mať zistené to svoje. Pri "workoutoch" je možné využiť aj ERG mód pokiaľ ho náš trenažér podporuje. V jednoduchosti ide o to, že trenažér nás núti krútiť presné watty, ktoré sú dané samotným tréningom. Vysvetlovanie by bolo dlhšie, tak možno niekedy v budúcnosti ešte viac popíšem o tomto móde, ako funguje, pokiaľ bude záujem. V každom prípade je nutné podotknúť, že v cene 10 dolárov vlastne získavate k dispozícii aj tréningové plány, ktoré síce nie su priamo na mieru, ale vždy lepšie ako nič. Tak isto je možné si zostaviť aj svoj vlastný, pokiaľ by niekto mal záujem.
Tak to je koniec! Rád by som Vám toho napísal ešte viac, ale už teraz je beztak toho veľa a kto sa dočítal až sem, ten je pripravený zwift používať prakticky plnohodnotne. Je ešte veľa vecí, ku ktorým sa ale určite intuitívne dopracujete. Pravdepodobne ešte pribudnú k tejto téme nejaké články, ale už o dosť kratšie a tématické, čiže sa budú venovať len určitému problému konkrétne a nie takto komplexne celému softwaru. Dúfam, že Vám všetky tri moje príspevky pomohli aspoň trošku pochopiť, čo zwift je, čo potrebujeme k nemu a ako funguje. To, aká je to zábava, sa tu nedočítate, to treba rovno skúsiť. Ďakujem Vám za pozornosť, ktorú určite nebolo ľahké udržať, počas tohto nekonečného čítania 🙂